Margarette Thacher once said that the oxygen of terrorists is media. This is pretty much true everywhere and more specifically in Indian media. Arun Shourie wrote an excellent book about Ayodhya movement. He showed that how the media and left liberals worked to deny even the basic demand of Hindus that is to admit that there was once a temple of Rama in Ayodhya. As more and more legitimate space was denied it eventually resulted in a very violent reaction. I suspect currently the entire world is going through a similar phase.
Mediacrook's blog run by person named Ravinar has been doing an excellent job of exposing Indian media morons. I always wish that someone sues him and he gains more publicity. Mediacrooks is always a twitter celebrity. For me personally his blog clearly helped destroy whatever little respect I had for the likes of Sagarika, Rajdeep, Arnab or Barakha Dutt.
This in my opinion has been the finest piece so far by Ravinar. There are tree parts and you should read all three. Here is a Bill Maher debate on the same issue which needs to be read.
We often ignore the role that the likes of NDTV, CNN-IBN and media morons like Sagarika, Rana Ayyub and Barakha play in actually supporting the terror acts by proxy.
Here is Sagarika telling people that MF Hussain should be able to draw whatever he wants.
And when it comes to Charlse's brutal murder by Islamic terrorists she has this to say :
This is not an oddball game. All the Indian liberals are playing the same game.
Here is Ms. Barakha dutt coming forward as the defender of terrorists.
Sagarika Ghose has earned the Category 5 moron tag on Social media for a reason, she wonders if a cartoon of Rama could lead to such massacre in India.
Here are some other people of similar stripes.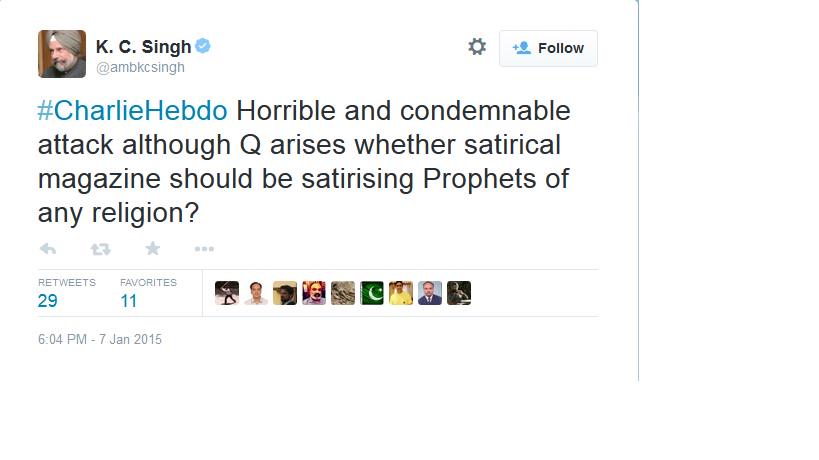 Charlie attacked all religions pretty much with super offensive cartoons. Only one religion retaliated with violent attack. Check the following cartoon that mocks Ganesha, Abraham, Jesus and I assume Buddha.